Greetings mutants and troglodytes,
I haven't been sleeping much lately, so bear with me if I get a little loopy.
SMACKDOWN
I was uncharacteristically unenthusiastic for this week's Smackdown. I was expecting Big Show to take the program over with his sniveling co
mplaint against Mark Henry. His weepy beef, you might say. I was feeling so lackluster about it that I put it off for Saturday, and watched NXT on Friday night instead, knowing that I'd have a better chance of seeing Dani
el Bryan win a match, and would at least get to listen to Regal's funny commentary. When I put Smackdown on during my Saturday morning breakfast, I definitely felt like I just needed to get it out of the way. So imagine my surprise when one of the most radical Smackdowns in recent history unfolded before me!
Randy Dorkin wins the biggest over-the-top-rope rumble ever, but who cares-- it was the b
iggest rumble ever! So cool. You must have lost your beans for that one, that's right up your alley.
Even with this great opening spectacle, there was plenty of time left to showcase a lot of the feuds that have been going on in the WWE. Sheamus and Christian, Orton and Cody Rhodes, Zack Ryder, Air Boom, and Vicki's Boys each got decent amounts of time to further their storylines a little bit. Surprisingly, Henry and Big Show's rivalry was (to my memory) only briefly touched upon, and mostly via video package. Big Show's been absent since his fateful return last week, even though I'm pretty sure I remember hearing him say that he'd be on Raw to support HHH. The Sin Cara(s) feud took the cake as coolest this week, with Negro ripping Azul's mask off and putting it over his own head. That was BAD ASS. Their whole
name-sharing thing was supposed to have been settled at the last PPV, but I'm glad it wasn't because it's only gotten better since. I heard that this coming Smackdown will feature a battle between the Sin Caras in which the loser must take off his mask and surrender the disputed moniker. That's going to make people nuts in Mexico (where it's being filmed)! Promises to be a memorable moment. Beth Phoenix finally got a clean pin over Kelly Kelly, and seems to have settled on the handle "Sisters of Salvation" along with her BFF Natalya. I liked "Divas of Destruction" more, but hey, it's only girls wrestling, right?
One more noteworthy thing from Smackdown is that Alberto Del Rio pinned Sheamus after kicking him in the head, which I believe is the first non-submission win that ADR's ever earned in the WWE. Might be off on that, but his pins are at least extremely rare.
BOUND FOR GLORY
BFG is the biggest PPV of the year for TNA. The storylines surrounding the events that were to take place at BFG have been brewing (or festering, if you please) for many months. Let's take a look at how some of these plots have culminated, and how the show went as a whole.
Austin Aries and Brian Kendrick are my two favorite male wrestlers on the TNA roster. They've each got a distinct and quirky in-ring style, and can each cut a unique promo at the drop of a dime. They stand apart like men from boys in the newly revamped X-Division, which seems to have only 4 active competitors. Their match was great and fun to watch, but was largely a big letdown. Neither guy got time to do a TV or PPV promo to build the rivalry, whic
h is a horrible shame considering they're two of the best promo guys in the company. They had a terrific promo segment to build their match at the last PPV, in which Aries took the X-Division title from Kendrick. The result was the same this time around, with Aries getting a clean win to retain. The result of the heel winning clean in a rematch, combined with the
fact that there was no build, made this match seem pointless.
Next on the card was RVD versus Jerry Lynn in a "Full Metal Mayhem" match, which I think meant that they were allowed to use things made out of metal on each other. Chairs and ladders came into play, and boy was it brutal! It was a taut, action-packed match full of high impact stunts and gnarly bumps that harkened back to their halcyon days in ECW, which of course was what the crowd in Philly was chanting. It was a really impressive display of self-disregard from guys who are old enough ro know better. It's gonna take a lot of bong hits to get through the pain that that match inflicted on those guys.
Three way match between Crimson, Matt Morgan, and Samoa Joe. Nothing stands out to me here. Crimson keeps rollin'.
Next up is a Falls Count Anywhere match between Bully Ray and Mr. And
erson. I don't know why they didn't call this one a hardcore or street fight or no DQ match, since weapons weren't against the rules in addition to the FCA stip. Even though these guys have been feuding for a while now, they made this match seem really fresh, and it was one of the most fun matches of the night, if not the most fun.
Before the next match starts, we see a backstage segment in which the referee Jackson James is identified as Eric Bischoff's son, as they plot together to take Sting out of action later on. James has been the ref in many, if not all high profile Immortal related matches, so it was cool to finally see this plot device being implemented.
The Knockouts singles title was defended in a tag team match. The ending was awkwardly botched. It was a dumb idea, and a stupid mess. For some reason Winter looked really hot. Velvet Skye won her first singles championship. Madison Rayne is my favorite person ever.
I don't care much about Christoph
er Daniels or AJ Styles, but they had a terrific I Quit match. Daniels especially made great use of the microphone during the match by saying mean things and making nasty threats. AJ won of course, but Daniels got the last laugh, and their rivalry has been heated way up.
Some funny signs were held high during the next segment-- "Drinking Matters" being my favorite. Jeff Hardy and Jeff Jarrett get into it in a continuation of some beef that started on Impact. They're separated by a bunch of refs and stagehands and D-Lo Brown and Al Snow. That seems to be Snow and D-Lo's job with TNA. They're just high profile fight breaker-uppers.

Now for the penultimate match of the night, perhaps the one most anticipated, and certainly the one most dreaded-- Hulk Hogan versus Sting 2011. There seem to be a lot of mixed feelings about the outcome of this match, particularly in the fact that Hulk Hogan turned face against his ol' buddy Bisch after seeing him hit his own son with a chair, and proceeded to turn against the whole of Immortal in an effort to rescue Sting. I can't say that the drama was thrilling by any stretch, but I am happy that Hulk's a babyface again, Dixie Carter's got TNA back, and also it was nice to see Ric Flair out there even if he didn't do much. Is this Hogan's cue to bow out gracefully, with his character coming full circle? He is the man, but TNA might be better off without him.
You know who's number one on my list of guys TNA would be better off without? The winner of the main event, the TNA champion Kurt Angle. He kind of grosses me out whenever I see him. I don't know if it's the shrunken physique, the hollow grin, his growing collection of DUIs, or all of these things together that turn me off of him completely. The first two things could be attributed to kayfabe, but the latter is garbage and I guess is what does it for me. My dislike for Angle, and eagerness to see a new "face" of TNA, especially in a guy like Robert Roode, made the ending of Bound For Glory very, very disappointing. It wasn't a clean win, so Roode is sure to get a rematch with thanks to Dixie being back on top, but why this rivalry has been drawn out I have no idea. The PPV had been pretty solid up to here, and the finale should have been the icing on the cake, but instead felt anti-climactic and shitty. All together it was a really good PPV, I think the unfortunate main event outcome was the only bad

thing.
Oh yeah, and the Knockouts match, I guess. But that was still kind of funny.
RAW
Alright, let's get this train moving here. Raw from Mexico! The crowd was awesome, even if I couldn't understand all their chants. Can't wait to see Mexican Smackdown.
Mark Henry executed the most bad-ass looking World's Strongest Slam I've ever seen!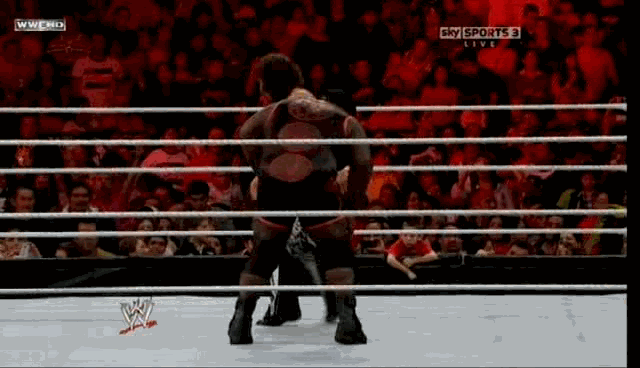 There was a DOPE new Brodus Clay package, probably my favorite part of the entire program!



There's going to be a WWE legends Real World style reality show!
Things get hotter between HHH and the new GM! Dolph Ziggler gets the mic and cuts a scorching promo! Michael Cole taps like Gregory Hines to JR!
As great as that was, I think I'd trade it for Michael Cole not playing his heel persona so much. If Cole and JR have issues the way Cole and Lawler had issues before, it's going to be rough. I'd prefer a table without JR to a table with him if it means that Cole will need to revert to his diaper-rash personality of months past. Man, it makes my ears buzz just thinking about it.
To end the show, John Cena lays out ADR and announces that their match at Vengeance will be a Last Man Standing match. I'm all for this, because ADR can retain the title by outsmarting Cena, since it seems unlikely that Cena would be out-wrestled. I think the last LMS match for the WWE title was when Cena beat Batista by duct taping Batista's feet together around a turnbuckle. Anyway, Cena's promo to end the show wasn't stellar, but it was better than his last few PPV send-offs. At least he put some effort into it.
The match I'm looking forward to most this Sunday will be the tag match between Awesome Truth and HHH/Punk. I like the odd couple pairing of both teams, and I think HHH/Punk have as much potential as Miz/Truth to be funny and entertaining as well as interesting and relevant. The idea of Punk and HHH being buddies worked for me instantly, and I'm looking forward to seeing how far they'll take it. With the exception of Mason Ryan being pushed(/shoved down our throats) all of the storylines going in the WWE are really good right now. There's a lack of interest in Daniel Bryan that's disconcerting, and I'd like to see more Wade Barrett, Tyson Kidd, and Heath Slater, but I can't get everything, can I?
Ta-ta from the tundra 'til next Tuesday,
Quarter Marshall